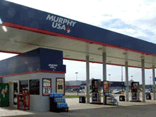 Welcome - You've arrived at the Murphy USA Corporate career fueling station!

"Begin your new journey by searching our opportunities below:

Murphy USA operates more than 1,100 Murphy USA and Murphy Express stores in 24 states throughout the U.S. — helping nearly 2 million customers every day to get where they need to go. For our customers, that means quick and friendly service, and a pleasant experience each time they visit one of our locations. For our employees, that means offering a dynamic work environment, excellent benefits, and opportunities for advancement.

For all of our employment opportunities, whether in the store, field, or office, Murphy USA is striving to find the best talent to join our team. Murphy USA provides an environment that promotes from within while augmenting with external talent as well. Many of our store employees have been promoted both within the store ranks and into management as well as promoted into the Home Office positions.

Drive your career farther down the road by applying today!

In compliance with Equal Employment Laws, qualified applicants are considered for all positions applied to without regard to race, color, religion, gender, national origin, disability, veteran status, age, or any other category protected by federal, state, or local law.



Avoid Roadblocks and Detours
Please allow yourself at least 45 minutes to complete your online application and assessment.
For security purposes we are unable to provide login or password information once you have created your profile. Please make note of the email address and password you used when creating your profile.
Please be sure to scroll to the bottom of each page to make sure you've answered all questions.